Inman Aligner
Crooked teeth? Had braces when younger, but now they've drifted back again? Don't want 18 months of train-track braces?
The 21st century is here, and we can now straighten your teeth more quickly and comfortably with modern clear braces. Some simple cases of crooked teeth can be corrected in as little as ten weeks with the Inman Aligner. Many more complex cases can be solved almost invisibly with Invisalign.
With advances in alignment, bleaching and bonding you can now have the smile you've dreamed of at a fraction of the cost of traditional veneers whilst preserving healthy tooth tissue.
The Inman Aligner is designed to correct adult relapse and misaligned teeth. It is barely visible, apart from a single clear wire, and it is a removable orthodontic appliance, allowing the wearer to go brace-free for important occasions. Similar to a retainer but has advantages over a retainer.

Invisalign
With advances in alignment, bleaching and bonding you can now have the smile you've dreamed of at a fraction of the cost of traditional veneers whilst preserving healthy tooth tissue.
If you've ever thought about how improving your smile could help you to feel more confident, Invisalign® might be for you.
With the Invisalign® technique you can have the smile you always wanted, without traditional, metal braces.
Invisalign® can help to treat a variety of orthodontic concerns and studies have shown it can be better for your dental hygiene during treatment as well.
Your treatment is nearly invisible, almost no-one will be able to tell you are wearing Invisalign®. You can smile more during as well as after your treatment and because you can remove Invisalign® you can eat and drink what you like.
So far over 480,000 patients worldwide have more reasons to smile –thanks to Invisalign®.
More than 10,000 dentists are prescribing Invisalign® as an innovative treatment for straightening teeth.?In addition to the aesthetic and comfort advantages, Invisalign® offers a number of significant clinical benefits including:
Predictable treatment, as Invisalign® is planned in advance your dentist can more accurately predict when your treatment will be finished
Improved periodontal health through better dental hygiene during treatment
No metal allergies due to brackets and wires
Greater treatment visibility and easier planning with our treatment software
Custom manufacture means a tailored match to your teeth, for reduced irritation and fewer scratches
Only your dentist can advise whether Invisalign® is the best treatment for you.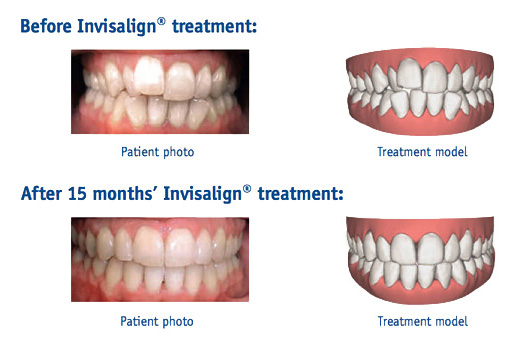 Cfast
Cfast is a simple, gentle, minimally invasive cosmetic treatment that corrects alignment issues with the top and bottom front six teeth, and can level and round out the arches, thus satisfying the needs of the vast majority of adult patients who seek orthodontic treatment.
Cfast uses clear orthodontic brackets and tooth-colored nickel-titanium wires. The treatment works much like that using clear aligners, but tooth movement is much more predictable and usually more than twice as quick.
The nickel-titanium wires put gentle pressure on the brackets to level and align the teeth with minimal discomfort to the patient. The gingiva follows this movement to achieve a fully aesthetic outcome.
Cfast is a fast, effective and affordable treatment when adults are seeking to correct their smiles. Because we do not claim to address major orthodontic issues, Cfast can be done very quickly, making it more affordable than all other orthodontic options.
Cfast takes less time than conventional orthodontics because it focuses only on the "social six", the front teeth that most influence the smile. The process is further enhanced with the use of special nickel-titanium wires, which exert gentle pressure to force movement in the teeth.
With clear brackets and tooth-colored wires, Cfast is barely noticeable – and worn for only a fraction of the time compared to traditional braces.
Standard orthodontic mechanics are still involved with CFAST, but because it's just the front teeth, the force required is minimal. The nickel-titanium wires exert mild pressure to force the teeth to move, and this is done without the need for severe tightening which causes the discomfort noted in conventional orthodontic treatments.
| | |
| --- | --- |
| | |
| | |
| Before | After |