Testimonials
Many of our patients tell us that we make them feel cared for. Most of our staff have been at Swan long enough to know you by name, where your kids go to school and what sort of floss you use (or not)! We always try to go the extra mile to make you feel welcome.
I have loved Swan Dental from the start. Usually I am very nervous about going to the dentist but the moment I met Henry I felt at ease. In fact I can say that I now look forward to going to see everyone and have a good chat with all the lovely staff. The whole experience has been excellent and I would highly recommend them.
Mrs I. Carr
When I chose Invisalign I was
unsure of what to expect as I had already had fixed braces a few years previously but had failed to wear my retainers and so my teeth had drifted back to their uneven position.
I found the entire experience with Dr.Donaldson very straightforward and easy going. My aligners came through very quickly and having the attachments fitted was painfree and simple.
Other people often didn't notice I was even wearing my aligners which helped my confidence improve dramatically. Only 18 weeks later my treatment was complete and I had, in my eyes, the perfect smile. I could not be happier with the way they have turned out and how quickly it was all completed.
I cannot thank Dr.Donaldson enough as he has given me back my smile and my confidence!
CM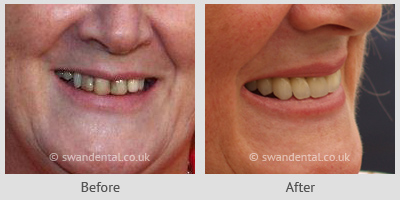 After years of dental dramas and disasters, I can only say a huge thank you to Henry for the fantastic transformation he has performed on my teeth. He dealt so calmly and reassuringly with a situation I thought was beyond hope and not only gave me beautiful teeth but restored my self confidence. The work was always carried out with such great care that I never had moments of anxiety about what was to happen next. I now have a smile to smile about!
TB
Thank you Dr Bannister for the new bridges to disguise my gaps. I only wish I'd had them done before my wedding photos were taken! I don't need to do a 'narrow' smile anymore.
J McA
Thank you Richard for your care, patience, and constant friendly face when all I wanted to do at first was get out of the chair and run! Now I find coming to the dentist a much easier experience. I wouldn't say I'm completely cured..... but I can sleep now before an appointment!

Thank you for making me smile again.
RM
I wanted to thank you for giving me treatment I could afford. I had been to two dental practices that wanted to charge me several thousand pounds. You listened to what I really wanted and I'm delighted with the outcome.
EB
Henry Donaldson has been my
dentist for several years and I cannot speak highly enough of his consummate professionalism. I have always trusted and respected his judgement and recently underwent a very successful course of Invisalign teeth realignment. I am highly delighted with the result and cannot recommend him enough both as a general dentist, as well as for the cosmetic treatment I received.
Christine Stone, York
I hadn't been to a dentist in 20 years because I was so frightened. However, Dr. Donaldson immediately made me feel relaxed and comfortable. He took the time to explain the treatment I needed and now my teeth are fixed and I am cured of my phobia!
MP
You can also see some of our dentists' cases for yourself here